Just a sampling of Wildwood's great reviews from Angie's List:
Just a sampling of Wildwood's great reviews:
***
Just a sampling of Wildwood's great reviews from Angie's List:
May 1, 2021: Our stone patio with LED dusk-to-dawn lights is GORGEOUS!! Jonathan and Robyne (and Jason — who designed our patio) were great to work with. They were meticulous, responsive, helpful, caring and professional. Their stone masonry crew did a superb job. I would highly recommend Wildwood Landscape for all your landscape needs!  Roy N., Google
***
April 20, 2021: Great customer service, amazing people!  Matt Z., Facebook
***
June 1, 2020: We had a wonderful experience working with Wildwood on our little backyard makeover. From the first meeting with Robyne to final project check in with Jonathan, the whole process was great. They were able to adjust the design based on our preferences while also making some great suggestions we hadn't thought of. We absolutely love the final result. Super responsive team with high quality workmanship- you can tell they really care about their work. Bye bye mud pit, hello gorgeous! (Patio + River Rock + Buried Downspout + Tree Removal + Top Soil/Sod)  Kristen C., Facebook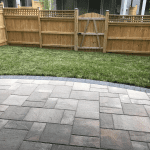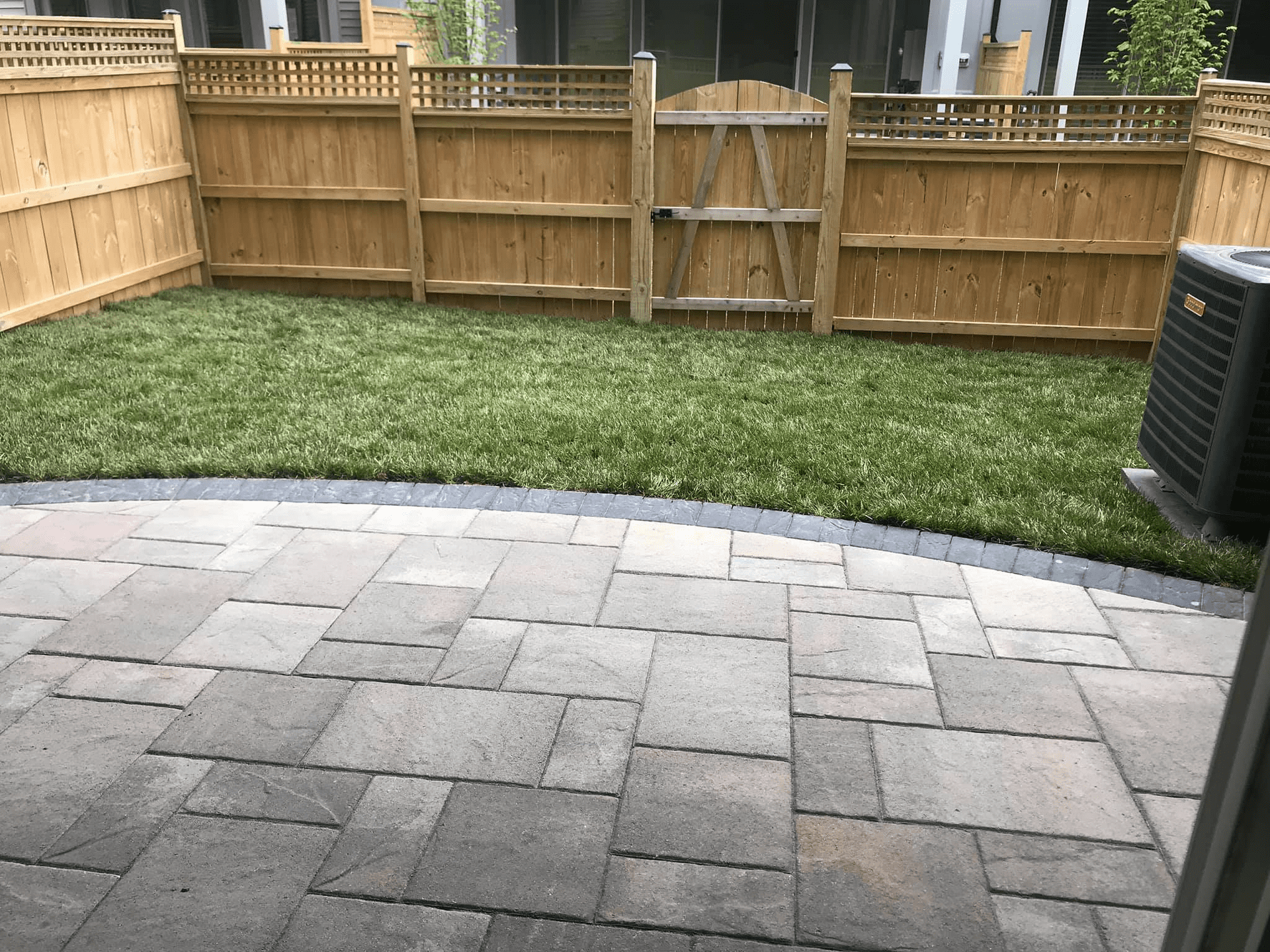 ***
May 18, 2020: Thank you soooo much, Wildwood Landscape! I posted a video with the plants just a tad bigger. And we just got solar-powered fairy lights delivered that Tim is installing for me along the top bar. This garden is my sanctuary. Thank you so much for your help in making it a reality!! Rita W., Facebook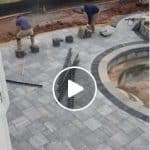 ***
March 26, 2020: That's my pool! Can't wait for the project to be completed. Wildwood has done a great job taking my ideas, putting them on paper, contracting the other companies needed, and managing the entire project. I highly recommend them. Jeanette B., Facebook
***
October 14, 2019: If you've been following my stories you know we are knee deep in home improvement. We just wrapped up this EPIC patio. And by 'we' I mean Wildwood Landscape local here in Purcellville, VA. (Head over to my Instagram.com/ginnybins1 to check out my highlights and see the entire step by step process. Start to finish.)
We had over 15 quotes for this project and I was dedicated to picking a local small business. From the start of this project, Wildwood was incredibly professional. They helped us refine our design, were beyond professional with their drawing, quote and contracts.
When you do any sort of manual labor or construction you genuinely appreciate the hard work, cuts and precision of other trades. I often spent time watching, videoing and taking pictures of this crew and God Bless them they always smiled while I gave them thumbs up and waved like I crazy lady.
I literally could cry I love this patio and experience THAT much. I can not recommend them enough to anyone looking for hardscape or landscape anything. Ginny B., Facebook
***
May 14, 2019: Jason, Robyne, Jonathan and the crew at Wildwood treated us like family as we worked through drainage improvements on our property. I appreciate their professionalism, expertise and hospitality. They've got your back. Well done, y'all. Keep up the great effort.  Scott P., Facebook
***
April 5, 2018: We met with Jason to do a landscape and hardscaping master plan design for our new home in Hamilton. Jason met with us several times to gather information and to discuss his ideas on what would work with our architecture while keeping our wants/needs in mind. The design was beautiful and Jason priced out different phases for us so that we could asses where we would like to start.  Lisa S., Houzz
***
May 4, 2017: They are serious and they put passion in their job. They do always an excellent work! My compliments to all the company.  Giulia M., Facebook
***
May 3, 2017: First rate work. They know regional plants and incorporate beautiful design to suit the customer and the site. I keep watching their work.  Frank H., Facebook
***
April 20, 2016: Wildwood did some landscaping design/build work for me in conjunction with a deck renovation. Their work was creative, well done and very professional. I highly recommend them for landscape design.  Loudoun Modern, Houzz
***
November 4, 2015: Just wrapped up a total renovation of the front of our house, including a new stone walkway, brick accents, a small patio, and a total redo of the plants. We did our homework – got other quotes from several other companies – but none came close to Wildwood in terms of overall professionalism or price. Now that the job is complete we couldn't be happier. Great work guys!!!  Jeff L., Facebook
***
Just a sampling of Wildwood's great reviews from Angie's List:
December 4, 2012: Based on our initial experience with Wildwood, We are planning on using Wildwood for any landscaping projects for our new home. They were professional, responsive and patient. We will be needing to do projects in phases and they were okay with that. The gave a reasonable estimate and we will update our review once work begins. So far, very pleased with their customer service.  Julia W., Brunswick, MD
***
August 2, 2012: Dawn from Wildwood was very professional and had a clear understanding of my desires. She met my deadline to get drawings and estimates to me. I gathered 3 estimates for this project and at the end of the day, I choose to go with another contractor based on cost. And although I am very happy with the contractor that come and built my patio, I am certain, had I picked Wildwood, that the job would have been done to my specifications. Dawn & Wildwood provided the estimate in a timely manner. There was no cost for the estimate.  Kathy S., Lovettsville, VA
***
July 24, 2012: Wildwood was prompt to come out, draw up a design, make suggestions for pavers and bushes/flowers. Their quote was a bit more expensive than two other places we investigated, but we liked their suggestions and professionalism. From beginning to end, they kept the work area neat and tidy. We were away from home for the last 3 days of the project and were very excited when we returned and saw the finished product. We would definitely use them again.  Chris A., Chantilly, VA
***
Bottom line first: The neighbors keep stopping to look and compliment our front walk asking to see the back yard- Their jaws drop as they tell us we live in paradise. The crew from Wildwood was consistent. The same crew every day. They always arrived early, worked late and the job site was always neat and orderly. They worked fast and hard and did an excellent job. During the construction, the owner showed up numerous times to check progress and ensure the job was not only to our satisfaction but to his high expectations as well. It became clear that was putting his reputation in the hands of his employees and they upheld it. The supervisor was onsite daily, often multiple times during the day to evaluate the work and make changes to the design as needed. It's no wonder this company keeps winning landscaping awards – They rock!!!
***
We've been implementing their plan in stages. They've come up with an innovative design, and I really like that they don't take a cookie cutter approach. Jason, the owner, has a very creative and artistic eye. He understands how to use local plants and that unique, fun, and practical way. He really considers every last detail when creating a design plan.
***
They were the general contractor of the project and did an excellent job. It was a complete custom design and not an easy project as it was on a slope. They were very professional and worked under horrible weather conditions. It was a 4 month project and they never complained and came day after day until it was done. They put a lot of people on the project and the end result was absolutely beautiful. They had to build 4 retaining walls and they had to work through a lot of bedrock. They put in a 50 foot slide which he had never done before. They did everything right and I can't say enough about them. I would highly recommend this company and we are currently using them to maintain our plants, shrubs and weed control throughout the year.